Introducing The S.P.R.I.N.G. Formula™
Unearth The Opportunities Burrowed Within Your Business, And Unleash Your Success
We help you, as an entrepreneur and business creator, move past the winter of stagnation and substandard results so you begin feeling the sunshine of success and experiencing the warmth of spring.
Our work at the Business Creators' Institute™ is based on principles and concepts around mindset, prospecting, team-building (including virtual team-building), customer satisfaction, the power of language, and use of minimalism for maximum results.
The foundation of our work is The S.P.R.I.N.G. Formula, the first-of-its-kind entrepreneurial success system we introduced in our internationally-acclaimed Amazon international best-selling book – Groundhog Day is an Event, Not a Business Strategy.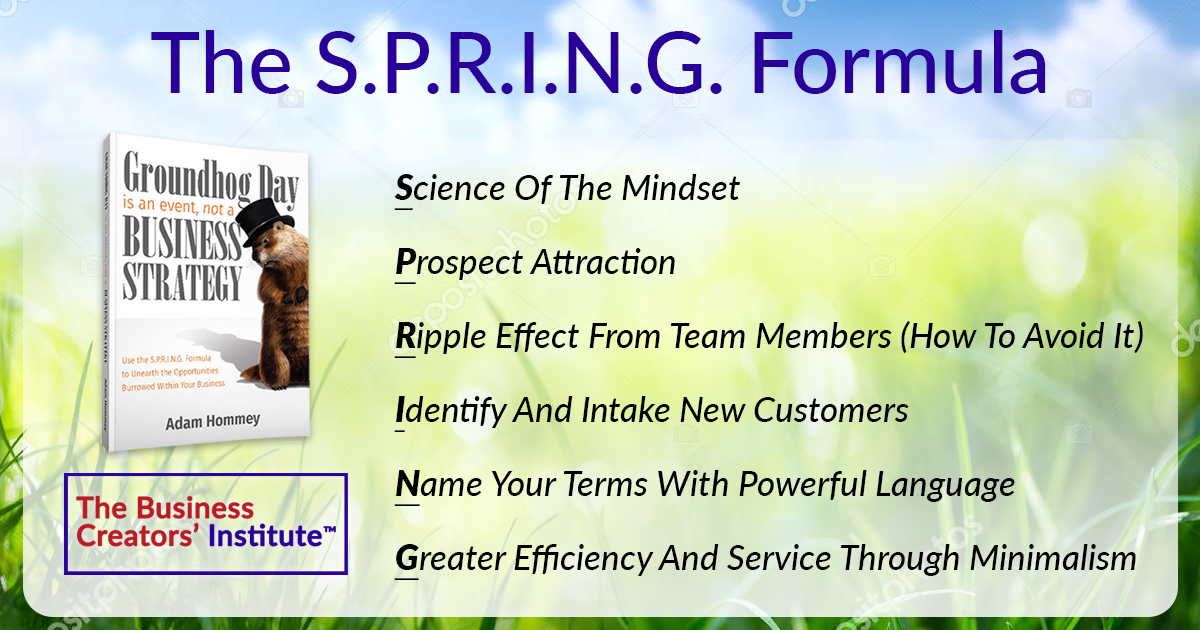 Science Of The Mindset
The silver lining in the cloud is a precious metal. Everything you and your organization have experienced, up until now, have set you up for success. We work with you to emancipate the power of the lessons from your imperfect past to almost guarantee your future success!
Prospect Attraction
Are your prospecting strategies chasing away money? Wealthy, affluent customers can be the easiest and most fun to work with, IF you know how to handle them. We work with you to optimize your prospect attraction strategies, plus attract strong, ready-to-buy referrals!
Ripple Effect From Team Members (How To Avoid It)
Are you on the same page with your employees and team members? Are you even reading the same book? We work with you to transform your team into enthusiastic, devoted partners in your success, dedicated to generating revenue and growing your brand!
Identify And Intake New Customers
Just because someone gives you money, they are NOT your customer (yet) and should not be called by that name. We work with you to transform purchasers into enthusiastic customers-for-life who became unpaid salespersons sending you ready-to-buy referrals!
Name Your Terms With Powerful Language
A lot of what you say may be setting you up for failure and bringing you the exact opposite of the results you'd like to see. We work with you to optimize the words you use with yourself, your employees and team members, and your customers!
Greater Efficiency And Service Through Minimalism
Thriving in any economy requires you and your organization to be lean and agile. We work with you to simplify processes, leverage technology, decide what you need to do (plus reveal what you should stop doing), and achieve maximum results through minimalism!